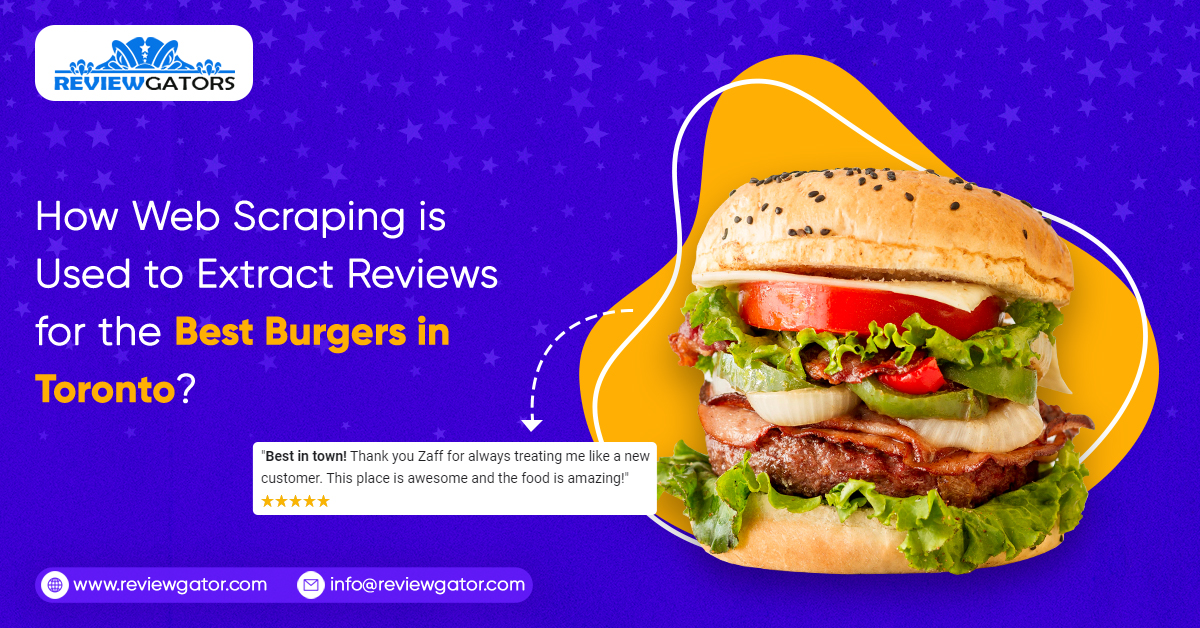 Here we will scrape reviews for the best burgers in Toronto. We will use ReviewGators web scraper to come up with the finest burgers in Toronto from a famous review website (such as Yelp) and examine hundreds of people's evaluations.
Here's a list of the best burger establishments in the city where you can get the best burgers.
Matty's Patty's Burger
The Burger's Priest
The Burgernator
Rudy
Johnny's Hamburger's
Matty's Patty's Burger Club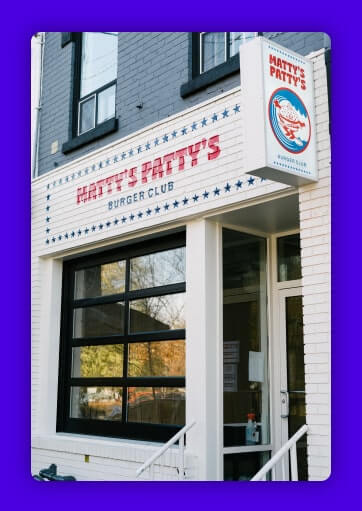 Matty's Patty's burger club is the spot where people appreciate their burgers with an average rating of 4.2 stars across all review sites and the most reviews.
The cheeseburger was discovered to be the most popular burger, which many people regard to be the most affordable and excellent burger available in Toronto. As per Yelp user's review, the delectable Matty's Patty's sauce is the burger club's specialty and this is what makes burger so delectable.
"The burger is amazing!" The meat was soft, and all of the seasonings taste fantastic and blended wonderfully. It's a heartfelt burger."
Address: 923 Queen Street West
Working Hours: Wednesday to Sunday
12 PM to 2:45 PM and 4 PM to 9 PM
Website: mattyspattysburgerclub.com
The Burger's Priest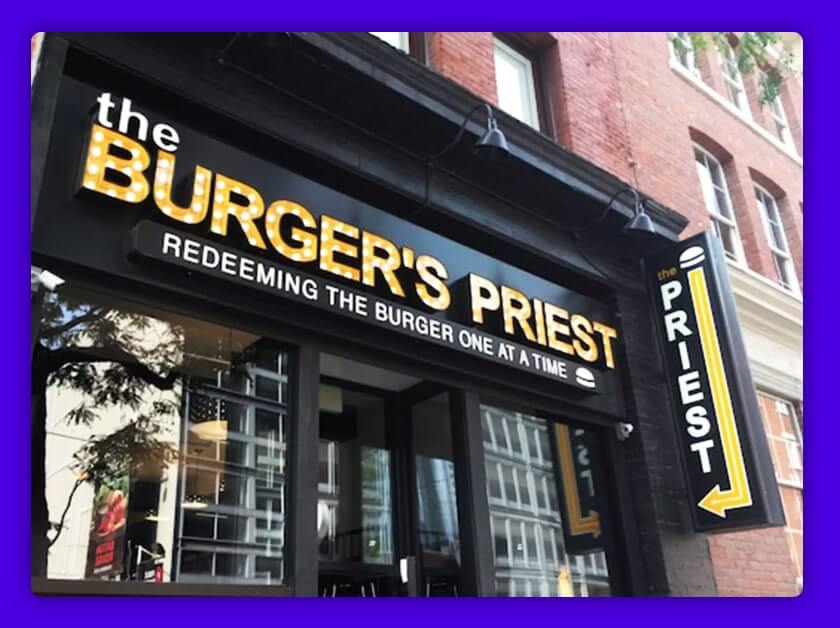 "In a small area with a religious theme and a hidden menu, popular burgers are grilled on a flat-top grill." Wouldn't it be great if you could enjoy a burger that didn't ruin your diet plan?
The Burger's Priest is the solution. They specialize in a broad range of buns, including burgers for keto, vegan, paleo, and other diets.
Customers may order from the expensive hidden menu, which contains a variety of burgers, for more typical cuisine.
The Bacon Burger and Cheeseburgers were the most popular, while the Double Cheeseburger was the most purchased, as per the reports.
Address: Various places across the GTA region.
Hours: opens at 11 AM every day with various closing hours across the week.
Website: the burgerspriest.com
The Burgernator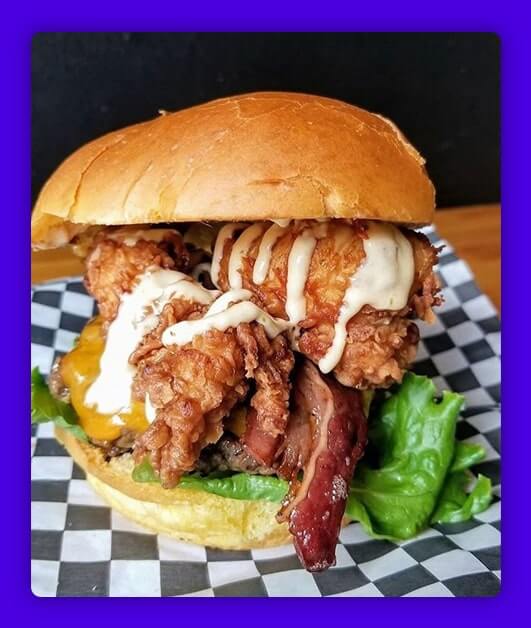 "Consider Burger as a weapon and Toronto is the battleground."
With menu items like Burgers of Mass Destruction and Classic Arsenal, this restaurant offers a distinct burger flair. Grilled pineapple, mango salsa, rosemary aioli, and other interesting toppings may be found on their burgers.
They own their own Burgernator sauce, which gives extra flavor to the burger.
The Big Bang burger is highly rated by Toronto reviewers and is a must-try as per Yelp user's review:
"Toronto has almost too many burger joints, but The Burgernator is absolutely one to visit if you want the juiciest and most delicious burgers."
Address: 269 Augusta Avenue
Hours: Opens 10 AM and closes around 11 PM
Website: theburgernator.com
Rudy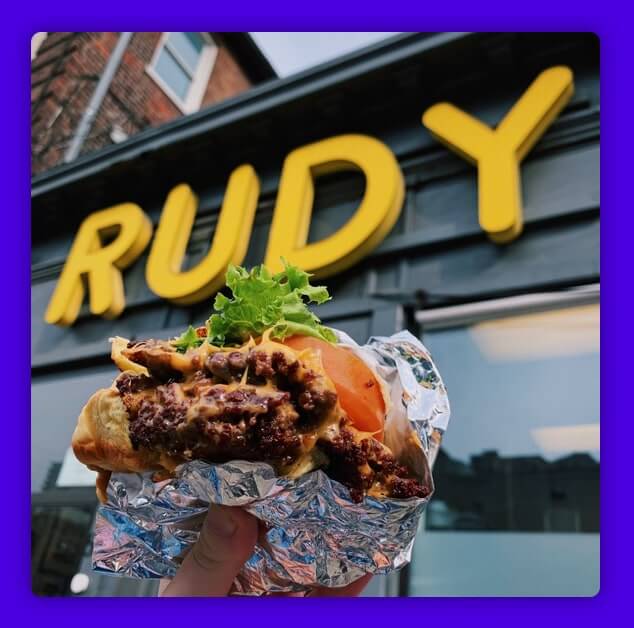 Rudy makes some of Toronto's greatest Smashburger's.
Rudy serves the greatest Smashburger's in town, as well as the cheesiest burgers imaginable. They too make their recipe known as "Rudy Sauce" which will enhance the flavor of the burgers.
The Rudy cheeseburger is the most popular, but if you pay a little more money, you can have the Rude Dude double cheeseburger, which is even more delectable and drool-worthy. Rudy has a 4.0 average rating and positive reviews, including:
"This is one of the finest burgers I've ever had." It's a straightforward, no-frills burger that scores high on taste and simplicity. I'd go again in a heartbeat." Rudy is a good place to visit.
Address: Various locations across Downtown
Hours: Opens at 11:30 AM and operates till around 11:00 PM
Website: rudyresto.com
Johnny's Hamburgers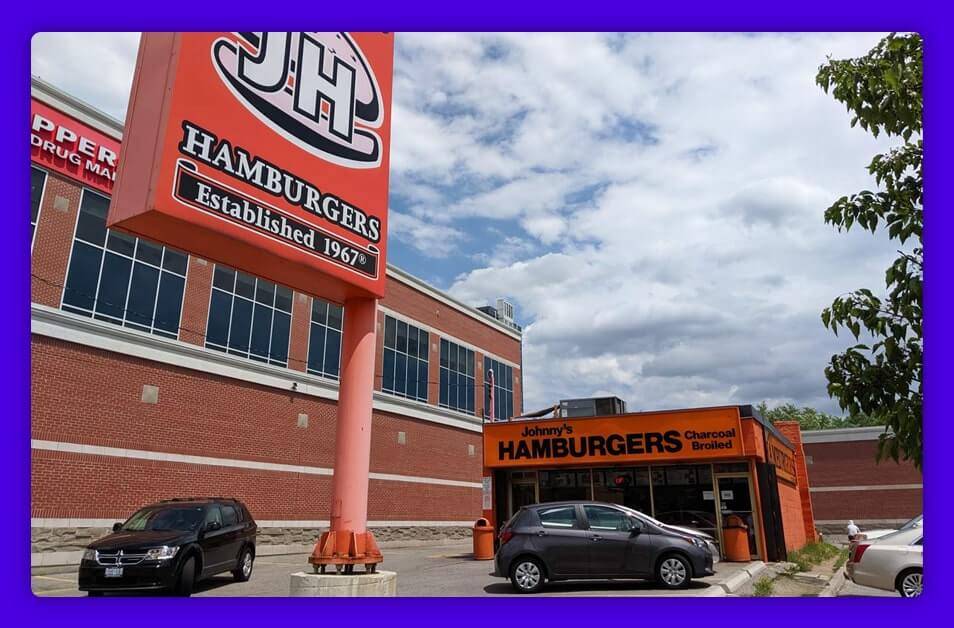 Johnny's is a renowned hamburger joint in Toronto that has been there for over 50 years and is said to have never changed its quality.
Their specialty is charcoal-broiled burgers, which have a particular flavor that has remained consistent throughout time.
People currently like the Banquet Burger, although almost all of the time they choose a basic Hamburger with the milkshakes on the side.
It is without a doubt the finest spot for your burger cravings and midnight desires, with an average rating of 4.5 stars and the biggest number of reviews throughout the years.
According to a review,
"Wonderful folks and a wonderful place." I've been visiting there for three decades. There was never a time when the food was an issue. It's just as excellent as it's always been. Even though the personnel has changed over the years, they are still nice and helpful, just as they were when I was 20 and eating with my friends at 2 a.m. on Saturday."
Address: 2595 Victoria Park Avenue.
Hours: Opens at 12 AM until 1 AM on regular days and 2 AM on weekends
Website: johnnyshamburgers.com
Conclusion
These were the top 5 burgers recommendations based entirely on user reviews and ratings across all the platforms. This study was carried out with the most popular locations analyzed.
For scraping more reviews of best Burgers in Toronto, contact ReviewGators today!!!