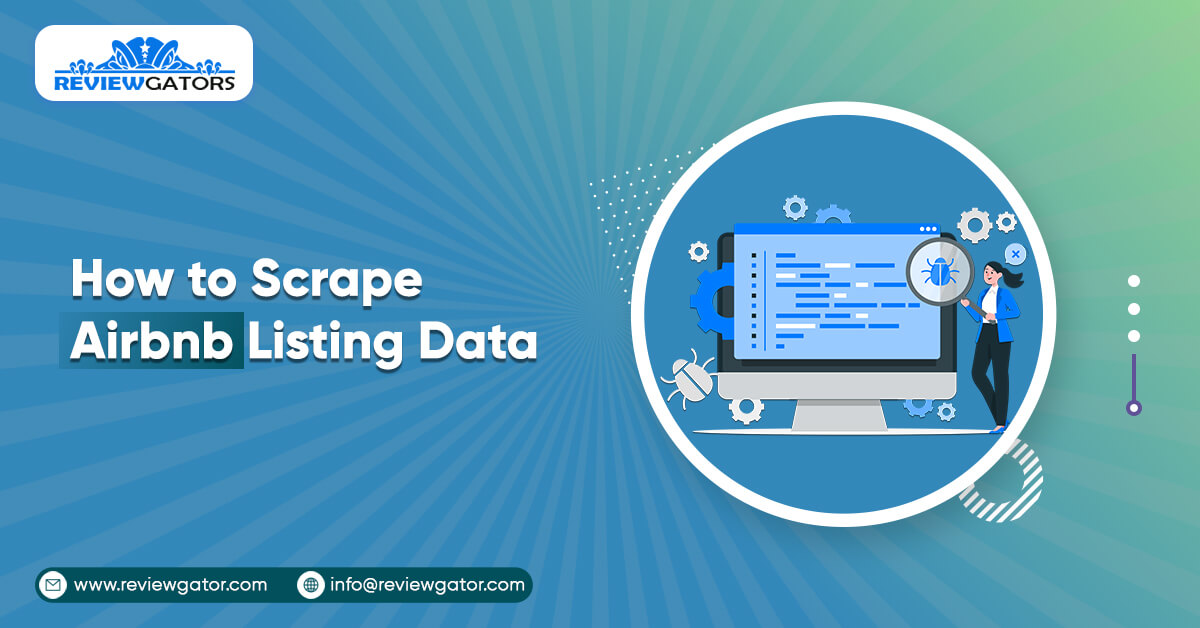 You surely would be aware of Airbnb, one of the most prominent online marketplaces for lodging and travel experiences. It is entirely evident, and it has changed how you find and book accommodations globally with plenty of property listings, reviews, and pricing information; the data is a goldmine for you as a business owner. The data of Airbnb is ultimately a gold mine.
Basics About Airbnb
Airbnb is an online platform connecting you with hosts with spaces available for rent. It is essential for you when you seek accommodations globally or anywhere, whether you are looking for a cozy apartment or beachfront villa. Airbnb offers plenty of lodging options to align with different budgets and preferences. You can easily search for properties, read guest reviews, and book your stay directly from the platform.
Why Should You Scrape Airbnb Data?
With Airbnb, all the essential information, from listings, amenities, descriptions, and photos, is available in a single place. Scraping this relevant data helps in making future decisions without confusion. This information will be necessary for some market research or property management.
By scraping Airbnb data, you can keep a tab on the rental prices in specific locations. This will help you make the right decisions about setting comprehensive rates for your property at the right time.
Data scraping allows you to identify your potential guests who will align with the criteria of your property. This will allow you to customize your marketing efforts in time.
Legal Considerations For Scrapping Airbnb Data
The terms of service surrounding Airbnb data collection are ultimately not allowed without their consent. Violating all the terms and conditions might lead to legal consequences.
You need to check Airbnb's Robot—txt file to understand what parts of the website are off-limits to you as a web scraper.
You must always ensure that the web scraping activities that you take out respect the terms and do not harm the platform or any other users in any way.
How Can You Scrape Airbnb Data?
There are different scraping tools available out there. You need to choose the one that aligns with your needs and proficiency.
You must decide what specific information you want to extract from Airbnb. You need to check if you'll get some property details reviews or just pricing data.
Now, you need to configure the scraping tool by specifying the URL of the page of Airbnb that you would want to scrape. Now, you need to select all the elements to extract. You need to define the format for saving your information.
You need to execute your scraper tool and the desired data from Airbnb. You must be very careful when choosing the scraping frequency to avoid any overloading of the servers.
Post scraping, you need to clean and format your data for usability. This includes organizing and structuring your data for analysis or other applications.
Uses Of Airbnb Data
Aibnb data is essential for different applications. You can use the trends in rental prices and occupancy rates and also check the property types in a specific location. This will make it very easy for you to make the right investment decision.
When you have Airbnb data, you can keep a tab of the prices of similar listings in your visibility. This will make it easy for you to determine competitive rates for your properties. You can also make the most of your rental income with this.
Now, you can use Airbnb data to identify potential guests who align with your profile. When you customize your marketing efforts, you can reach the right target audience quickly.
Airbnb data can also make it very easy for you to keep a tab on the performance of your rental properties. You can get some insights and reviews from the customers, which will guide your decisions, upgrades, and investments.
How To Avoid Getting Banned By Airbnb?
There is no doubt that Airbnb is a great platform to scrape information. But Airbnb does have some terms of service which need to be understood clearly. Understanding the terms also gives us an idea about what is allowed and what is not. If in case any terms and conditions get violated, then it leads to the suspension of the account.
You should always follow ethical scrapping practices. It means that you need to consider the servers and other users of the platform. You should not overload the outlet with plenty of requests quickly. This can disrupt the service entirely.
Furthermore, it would be best if you avoided any aggressive scraping techniques as they might look suspicious to the systems of Airbnb. This can include scraping vast amounts of data instantly or just attempting to scrape data that is likely to be protected.
It would be best if you controlled the frequency of your scraping activities. When you scrape excessively, then it can be flagged by Airbnb. Instead, you can space out the scraping request to show natural behavior.
You must consider using your residential IP address for your scraping activities. The IP addresses are generally associated with the real Internet service providers. It might appear suspicious to Airbnb.
It is essential for you to implement rate limiting in your scraping process. This will include setting maximum requests per minute or hour to ensure you do not overload the servers.
The Future Of Airbnb Data Scraping
Artificial Intelligence and Machine Learning play a huge role in scraping Airbnb data. This means you can quickly identify all the patterns and trends prevailing.
Data Privacy
Strict data privacy regulations will most likely influence the future of Airbnb data scraping. It is essential to comply with all the regulations to avoid any legal complications. It would be best if you implemented strong data protection measures in place.
As the value of Airbnb data becomes more apparent, competition in the data scraping field is likely to intensify. Finding excellent ways to collect and analyze data effectively would be best. At the same time, you need to stay compiled.
Market Intelligence Tools
You can anticipate the development of some specialized market intelligence tools that are customized for the hospitality industry. The tools will give you all the insights into the market trends, pricing strategies, and property performance based on the Airbnb data scraped.
Airbnb data scraping can lead to user profiling that is refined. You can use the data to customize your offerings and target specific customer segments.
As awareness of data ethics grows, there will be more focus on responsibilities and ethical scraping. You need to focus on transparency, consent, and, of course, user privacy.
In the future, there can be opportunities for collaboration between Airbnb and yourself. Airbnb can provide you with data-sharing agreements. This will help you facilitate legitimate data access for some specific purposes.
The Impact of Airbnb Data Scraping on the Rental Market
Airbnb data scraping has a lot of impact on the rental market. It provides valuable insights on the supply and demand dynamics besides pricing trends. You can use the scraped Airbnb data to adjust your pricing strategies. Keeping a tab on the listings allows you to set comparative rates to help you make the most of your rental income. Airbnb data scraping also enables you to track the performance of your rental properties. When you take insights from the scraped reviews and guest feedback, you can make the right decisions about maintenance upgrades and guest experience. You can use scraped data to identify the potential guests likely to align with your property characteristics. You can target your marketing efforts in the right way then.
Wrap Up
In today's data-driven world, Airbnb data scraping offers plenty of opportunities for you and your business. You can harness the power of this data to make informed decisions and improve your marketing efforts. With a clear understanding of the ethical aspects, you can use Airbnb data responsibly and effectively for different applications.