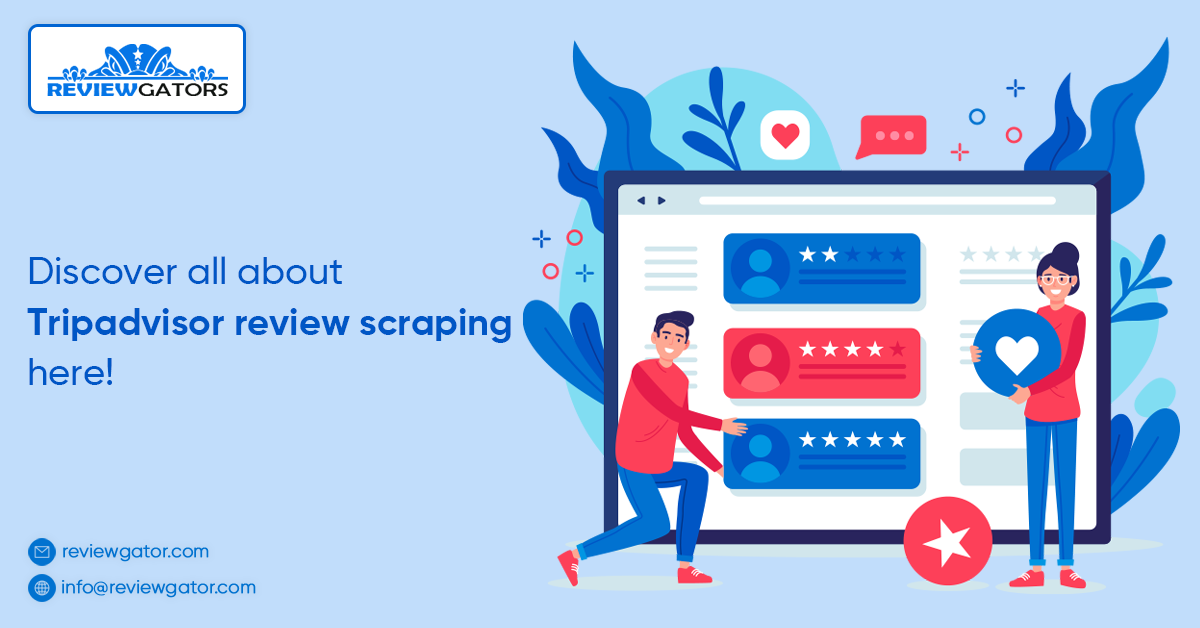 On Tripadvisor, you may find a wealth of vital information, including costs for lodging, airfare, and well-liked vacation spots, as well as trend indicators and data on what's trending right now. You can use Tripadvisor reviews scraper to gather essential information from different websites.
The Tripadvisor API makes it easier for hotels and travel companies to integrate data from Tripadvisor onto their websites. You will succeed if you take the time to extract crucial information and use the Web scraping API But first, let us take a closer look at TripAdvisor Scraper and understand all its nuances in detail!
What Exactly Is A TripAdvisor Scraper?
A TripAdvisor scraper is a software that collects data from TripAdvisor, a prominent website for restaurant and travel reviews. It swiftly gathers information on places to stay, dine, visit, and travel based on user reviews, ratings, images, and other facts.
TripAdvisor scrapers serve a wide range of purposes, such as market research, competitor analysis, and business intelligence. They are instrumental for professionals in the travel industry, data analysts, and researchers, enabling them to efficiently amass substantial volumes of data for subsequent analysis. This analysis can yield insights into customer preferences, industry trends, and the performance of businesses.
How Can TripAdvisor Scraper Help You?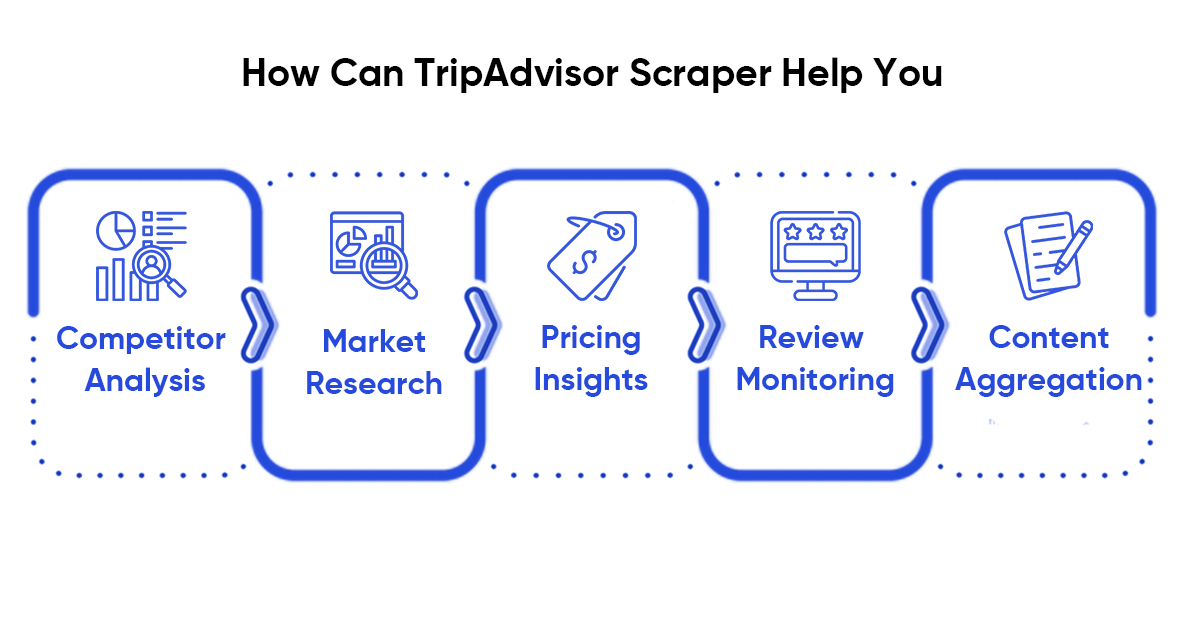 Competitor Analysis:
A TripAdvisor scraper allows businesses to gain a competitive edge by collecting and analyzing customer reviews, ratings, and feedback for competitors. This data provides insights into the strengths and weaknesses of rival businesses, enabling more informed strategic decisions.
Market Research:
TripAdvisor scrapers simplify market research by gathering extensive user-generated content, unveiling market trends, consumer preferences, and emerging opportunities. Whether you're entering a new market or refining an existing one, this tool offers valuable insights for planning and decision-making.
Pricing Insights:
Monitoring and collecting pricing data from competitors is made easy with a TripAdvisor scraper. This data ensures that your pricing strategies remain competitive and aligned with market trends and customer expectations, ultimately optimizing revenue and profitability.
Review Monitoring:
Real-time monitoring of customer reviews and ratings facilitates timely responses to feedback, whether it's positive or negative. This proactive approach enhances customer satisfaction, reputation management, and overall business performance.
Content Aggregation:
Gather user-generated content related to your business or industry, including photographs, descriptions, and relevant content. This comprehensive content may improve the quality of your website, marketing materials, and social media presence while boosting brand confidence and giving potential clients a more complete grasp of your services.
How Can Data Be Extracted From Tripadvisor?
A TripAdvisor scraper is a tool that does three main things: It goes to the TripAdvisor website, asks for information, and then stores that information neatly. It's super important to be good and fair when using scrapers because some websites don't like it.
It's simple to use the TripAdvisor reviews scraper. Just let it know what you're looking for, including the area, the kinds of sites you're intrigued about, and the precise dates you have in mind. These selections serve as your unique set of "keywords." With the help of this software data extraction is made simple and hassle-free, guaranteeing that you can easily obtain the information you require.
This information can be extremely valuable, particularly for travel-sector businesses. A scraping tool is very useful if you own a travel agency and want to know what customers are saying on TripAdvisor about your neighborhood or your enterprise.
You can use the data with your team to plan for the future and make wise decisions. Additionally, by scraping Tripadvisor data, you can see what your rivals are up to and discover more about what local tourists think of the lodging options and services available.
Extracting Information From Travel Forums
In addition to offering a variety of tour and lodging options, Tripadvisor also runs several online forums that are thoughtfully categorized by topic or location. For instance, if you click on France and Paris forums, you'll find a tonne of discussion boards about the best day trips outside of a city, how to use the Paris metro, etc. Since there are several forums for every destination imaginable, travel agents might utilize this information to identify various queries.
So that clients don't have to visit several internet discussion boards, you can then fill the gap by including this information in the work.
Guides For shopping
Depending on where you are traveling, Tripadvisor reviews scraper has a lot of sites with shopping guides. Extraction of store review data provides insights into what visitors seek when shopping in a particular place for various establishments that want to draw tourists. If you own a store in London, you should be aware of the popular tourist destinations in the area.
Wrapping Up
Getting data from TripAdvisor is like finding a gold mine of priceless travel information. It's like having a map that shows you where your optimal locations are. The good news is that you can handle the most difficult portions yourself thanks to user-friendly tools like Octoparse and ParseHub. Without the need for substantial web scraping knowledge, these TripAdvisor review scraper quickly capture data in a couple of minutes.
Tripadvisor is a virtual encyclopedia of hotels, restaurants, travel information, and other services. You may acquire all of this information and make informed judgments by using a web scraper. For travelers, this means that you may arrange a flawless holiday with the support of useful reviews. And it's a treasure of data for travel companies to help them understand what visitors appreciate in different regions.