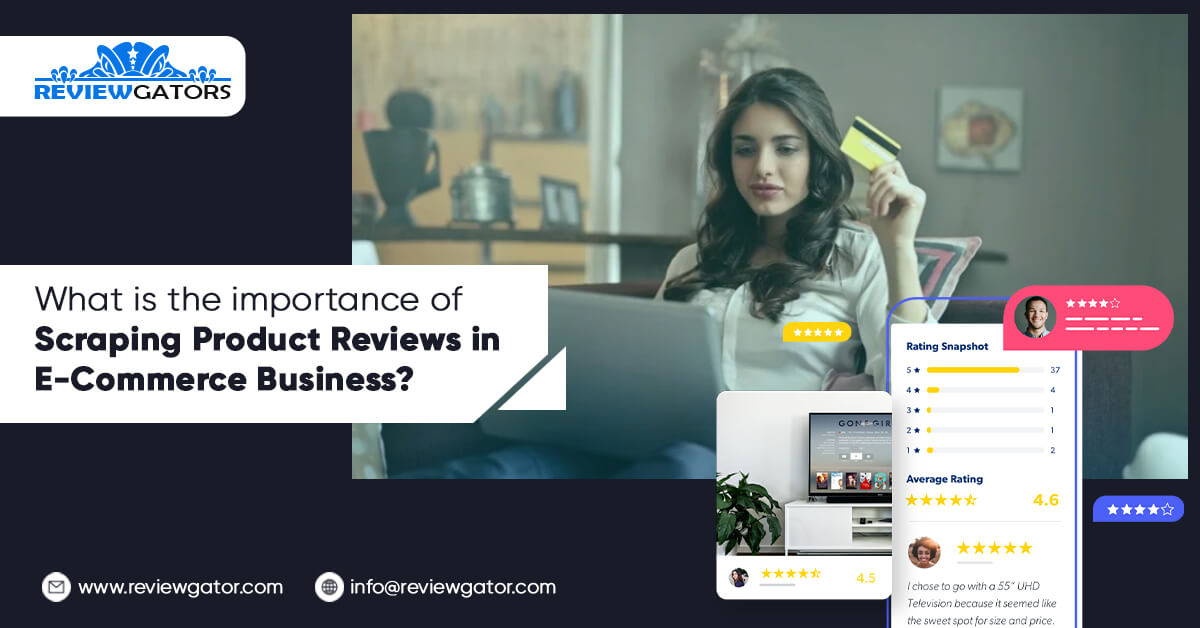 It is possible to gain deep insights into products or services by scraping product reviews.
Quantitative data, such as star ratings, and qualitative data, such as user comments, can be gathered from product reviews. You can compare, filter, and aggregate these review data by combining them.
Scrape Product Reviews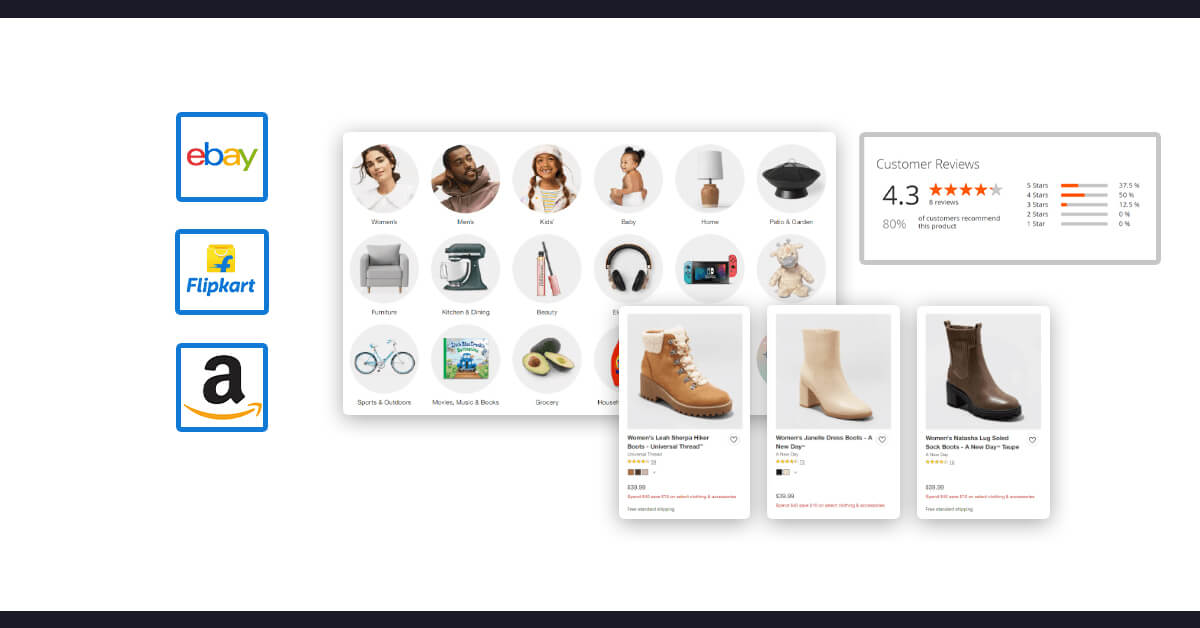 Scraping product reviews from e-commerce websites is becoming one of the critical competitive intellect tasks. Reviews of products on e-commerce websites are the best way to get honest feedback from real customers. In e-commerce, product review pages are critical for manufacturers seeking in-depth product information. Several e-commerce sites offer product reviews. Businesses may need more infrastructure, skills, or resources to extract reviews, so scraping services can help automate the process.
Fortunately, ReviewGators focuses on web scraping solutions for large-scale data and can assist you with scraping reviews of the product from your preferred e-commerce portals. Our wholly managed solution includes crawler administration, allowing you to emphasize the application of the given data rather than the complexities of online data extraction.
Implementation of Product Review Scraping Quickly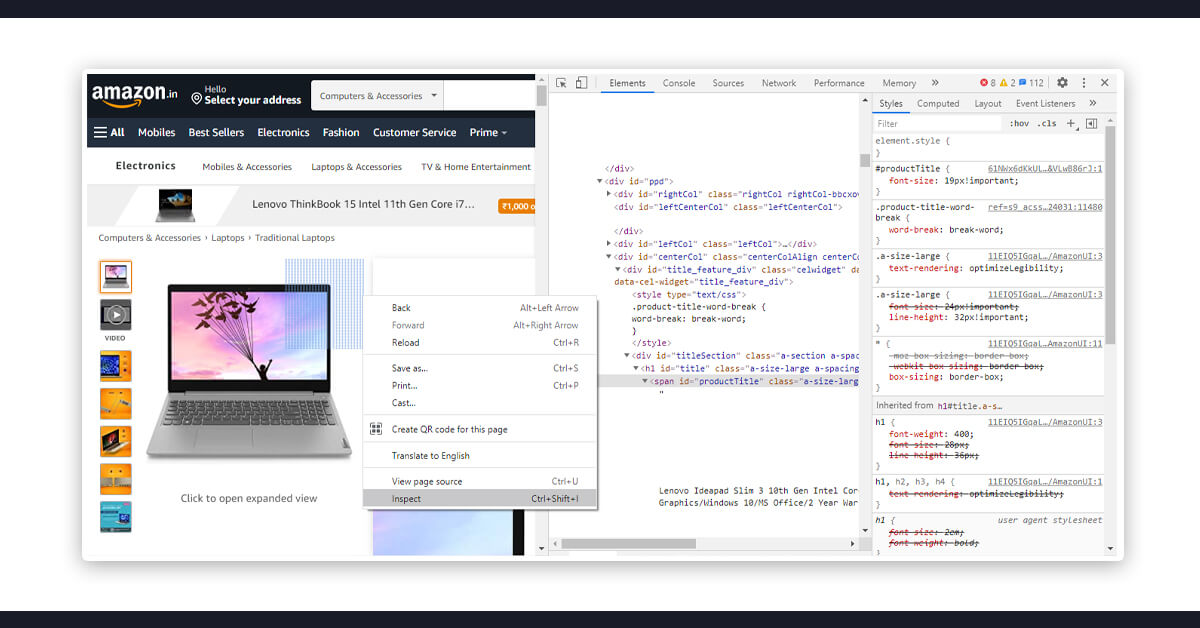 At ReviewGators, we assist you in implementing extracting ecommerce product reviews on time. Our primary goal is to implement speed and data quality. We can meet your specific and large-scale requirements without using codes, even if the sites are complicated. Due to our extensive expertise in constructing large-scale crawlers for several clients across various sectors, we have readily available product review scraping methods. We also possess an excellent customer support team dedicated to each customer's needs and assisting them by going live as quickly as possible.
Advantages
Examine reviews of competitors to see their performance regarding each product or service.
Product data scraping has a wide range of advantages for many websites, but it is especially beneficial to operators of e-commerce in some ways.
To increase sales, determine which high-rated products to add to the e-commerce website.
Obtain quantitative and qualitative information on your items and services.
We cannot overstate the importance of monitoring product reviews in real time. You can spot new trends early enough to stock the market-leading products earlier than your competitors and tay ahead in the graph.
Recognize products that are best-sellers based on their sentiments and places for growth.
Uses of Scraping E-Commerce Product Reviews
E-Commerce has been spread wide around the globe, and there are product reviews available in plenty on these sites. The key benefit for companies that are into manufacturing is that these reviews are objective, which will assist them in better understanding their customers and serving them. Here are some of the most common uses for scraping product reviews.
1. Recognize the Customer's Preferences
It's essential to stay ahead of customer preferences to create compelling products. Your time, energy, and money go in vain and lead to customer disappointment if the products do not meet customer expectations. You can fill in the gaps by scraping product reviews by listening to the customer and understanding their wants and needs. Your firm may identify the critical variables that improve sales in niche markets and change the items by extracting product reviews and evaluating them for the right goals.
2. Tracking Brand Image
A company's reputation or brand image is essential for business growth and consumer loyalty. Preserving a positive image of the brand is significant, which means your company should be attentive to client complaints. Brand monitoring assists you in detecting unresolved consumer complaints that, if not addressed immediately, can get converted into more significant problems. Scraping evaluations from e-commerce websites might assist you in keeping watch on complaints and maintaining a positive company image.
3. Analyze Your Competitors
More than listening to your customers may be required in today's highly competitive business world. Competitor data can help you spot easy targets that give you an advantage over competitors. For instance, if customer feedback on the competitors' products indicates a particular feature is in high demand, initiate it in your product. Gaining more users will help you stay ahead of your competitors.
4. Processing of Natural Language (NLP)
(NLP) Natural language processing is the process of allowing computers to comprehend the context of human languages. As do artificial intelligence and translation services, voice assistants like Google Now, Siri, and Cortana run on NLP-based systems.
5. Detection Frauds
Brands have always faced danger from fake items. They not only impact sales figures but also leave a negative impression on customers who might need help understanding the defective product received was bogus.
Scraping product reviews allows you to gain access to the information, which may provide signs of ongoing fraud. Identifying fake product sellers requires more and continuous negative reviews. Live crawls, or real-time crawls, are done when e-commerce vendors need to obey the rules of the agreement.
Importance of Scraping Product Reviews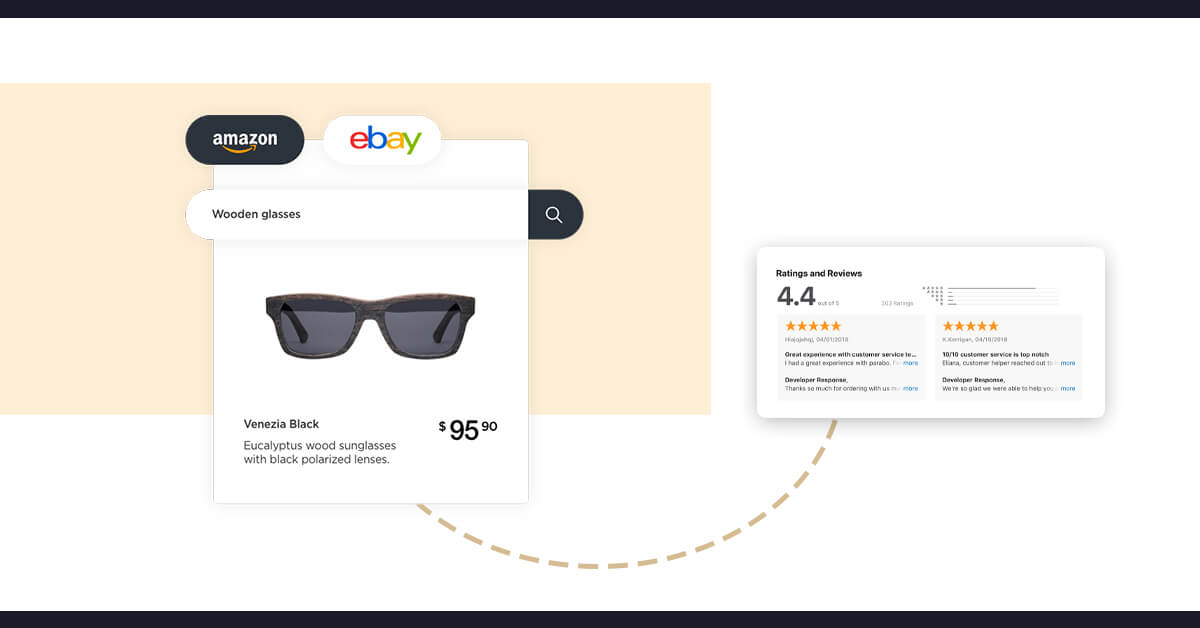 Product reviews are significant for many reasons. They work as a feedback source for businesses that provide services and commodities, allowing you to identify areas for development. However, it is more complex than it appears.
You will need extensive data to picture a product or service accurately. Because new reviews are uploaded regularly, you will need the following:
Accurate and efficient large-scale product review data.
Maintain consistency of extraction for new data uploaded daily.
Scraper proxies that can work through geo-blocks
The aggregated product review data can provide a comprehensive picture of the company's operations. If a product constantly receives low ratings, you may discontinue the stock or replace it with a different or enhanced version.
The Process of Scraping Product Reviews
You won't have to worry about the difficulties of product review extraction if you choose our web scraping services.
The task begins with the collection of requirement phase, in which you give the specifications on requirements, like the crawl's frequency, the websites to be crawled, and the fields you want to extract.
Our team is ready to set up crawlers and begin supplying the data in the chosen format determined for the task. Dropbox, Amazon S3, Box, APIs, FTP, and other methods can distribute JSON, CSV, and XML data.
Conclusion
When you use our data extraction services to extract product review data, we help you in all dimensions, from evaluating your task to alerting you about all legal issues that might arise.
Our best support team can stay in touch and assist you with your data extraction process.
Are you looking to scrape product reviews from e-commerce sites? Contact ReviewGators today!
Request for a quote!