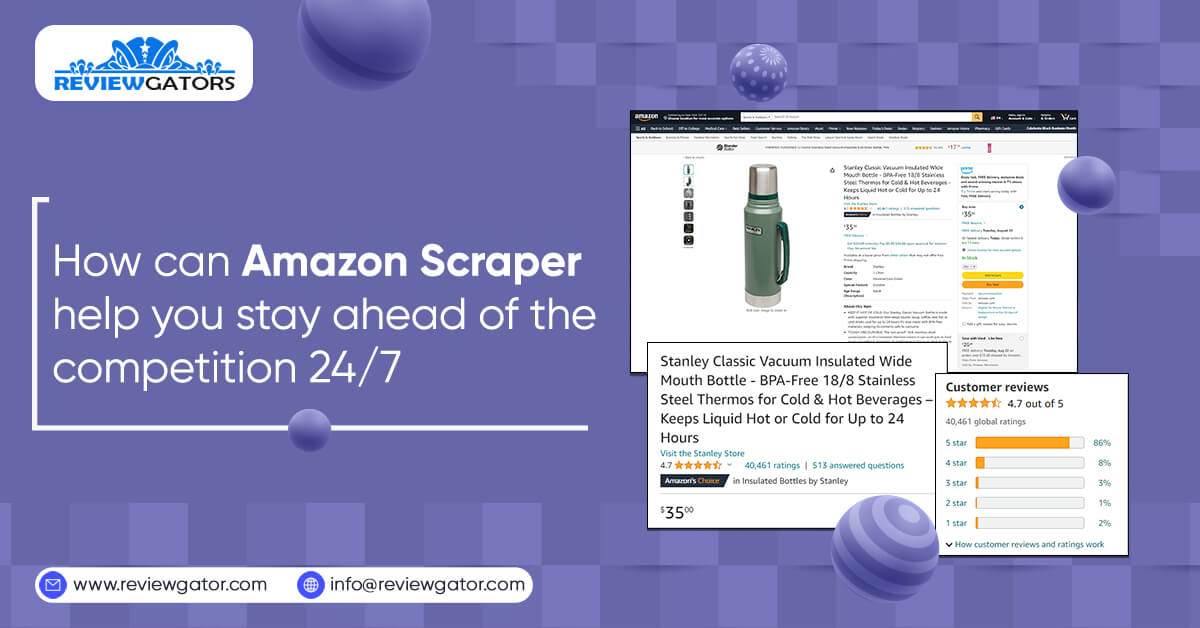 Data-driven decisions are always important for strengthening e-commerce platforms and creating a solid base for online shopping. Online businesses depend on considerable data to run their campaigns and achieve success. This is why scraping Amazon Data is important.
Many customers no longer use search engines like Google or Bing to start their searches. Instead, they start on Amazon.
In this blog, we will discuss the procedure for scraping Lazada product data and the services offered for data extraction.
What is an Amazon Scraper?
"Amazon Scraper" tool scrapes product data from Amazon.com and stores it in a database.
It can be used to search Amazon products or build a company's inventory. It contains vital information on Amazon's items, sellers, reviews, scores, special deals, news, and more. This data collection is helpful for everyone who uses the site, including suppliers, buyers, and sellers.
Amazon review scraping is cheaper than scraping several websites for e-commerce data.
Even if Amazon's open website is lawful, data security is a priority. Scraping private Amazon content is illegal. Thus, Amazon can sue anyone or any search engine that searches such sensitive personal data.
Benefits of Using an Amazon Scraper
Amazon is one of the biggest online stores in the world, and it has a huge selection of goods.
This makes it a useful data source for companies of all sizes. But manually obtaining data from Amazon might take a lot of time and effort. An Amazon scraper is a tool that can automate the process of extracting data from Amazon. This allows businesses to quickly and easily collect data on product prices, reviews, and other relevant information.
There are many benefits to using an Amazon scraper. The main benefits of Amazon Scraper are as follows:
Customer Review Analysis
One way to determine how well a product is doing in a competitive market is to look at how customers feel about it in reviews. Using Amazon review scraping, Amazon dealers can determine what factors affect a product's ranking and develop effective ways to raise their numbers. They can also use the information to plan ways to improve their products, customer service, etc.
Price Comparison
Web scraping lets you always get relevant price information from Amazon pages about your competitors. Price research can help the seller determine the best price plan to keep their market share, track price trends, determine how their competitors are doing, set up deals, and more. A smart pricing strategy will bring in more people and money.
Identifying the Target Group
Every store has a different group of customers who buy a specific brand of things. When a retailer knows about their customers, they can smartly sell goods that are in demand.
By Amazon product data scraping, you can find out who your customers are, how they buy things, and what kinds of product sets you can make for them to boost sales.
Demand Prediction
It is essential to look at market data carefully to find the most profitable area. Tracking product interest on Amazon lets you figure out which goods are the most popular and how they fit into the market as a whole. It helps improve the supply chain by optimizing internal assortment, handling inventories well, and making better use of manufacturing resources by scraping the platform for data after careful analysis.
Factors to consider when selecting an Amazon scraper
When choosing an Amazon Scraper, think about a few things.
The Standard of Scraped Data
The data scraper should provide high-quality, well-filtered, and duplicate-free data. It is one of the best Amazon tools. Depending on the tool, an Amazon scraper may be unable to sort data for quality.
Adapting Quickly to Website Changes
One way to solve this problem is to use an Amazon scraper powered by AI, which can adapt to changing web pages. Selecting an adaptable Amazon scraping is highly suggested if you want to choose a scraping project.
Highly scalable architecture
The needs of companies for Amazon scraping projects are very different from those of other projects. Choose a highly scalable Amazon scraper to ensure a tool can handle projects of all kinds and types.
Capabilities for automation
Manual scraping is not only hard and inefficient but also often leads to mistakes and other problems. So, this problem can be solved with the help of an Amazon scraper's automation features.
Some key pointers worth remembering while you pick the right Amazon Scraper:
To choose the right Amazon Scraper, consider the following points.
The app should be tried out for free.
There should be a tool on the internet that searches for Amazon items.
The tool should only take a few minutes to start up.
The software should come with a complete video lesson.
The Amazon product scraper software should have a model where you pay as you go.
Based on search terms, the computer should be able to get a list of Amazon products.
With just one keyword, the program should show many things.
The program should be able to handle data based on the most convenient position.
Popular Amazon scraper tools and their features
These are some of the most famous Amazon Scraper tools:
XByte.io
Oxylabs is one of the few companies with a specialized e-commerce scraping.
API that comes with unique features and works perfectly with Amazon.
Features
There are 195 places where targeting at the national level is done.
Pricing is based on how many requests are met.
Data parsing
iWeb Scraping
The scraper sends results over an open link, which can be used as an API or a proxy server.
With 195 places to choose from, the service covers a large area of the world.
Features
Has proxy rotation and JavaScript rendering.
You can choose a device type and domain and then parse Amazon's most important parts, such as product information, search results etc.
Best practices for using an Amazon scraper effectively
For Amazon Scraper to work well, you need to do the following things:
Using a real User-Agent.
Several websites use Transmission Control Protocol (TCP) and IP tracking to find bots and make a name for themselves.
Changing the crawling pattern to think about how a normal user might interact with a website and adding clicks, scrolls, and mouse movements to match.
Future of Amazon Scrapers
Trends in e-commerce and data analysis make it clear that Amazon product data scraping will continue to be vital for businesses that want to stay ahead of the competition. You can get the most out of the benefits of Amazon scraping and open up new opportunities for growth and success shortly by learning about the latest changes in scraping technology and making changes to your business plans to match.
Conclusion
Ultimately, Amazon review Scraper Python can give much information with untapped potential that can be used to make crucial decisions. So, stores should start using these strategies immediately to get the most out of them.